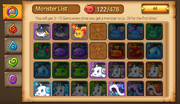 The Index is an encyclopedia found in-game. It is located in the bottom menu of the home screen. The Index shows all the monsters you have encountered. The ones you have encountered in cubes is shown with a bright colour, while those you only have met is showed as dimmed.
The index has five different categories. All, Water, Fire, Nature, and Normal. Besides the categories, the index is also able to sort monsters after Rarity. The monsters in the same evolution tree is located near each other.
Information
Edit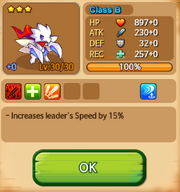 When you tap on a monster, the Index conviniently shows you all the information. It shows a moving sprite of the monster, its
Class
and
Rarity
. It also shows
Stats
and
Moveset
. You can also view its evolutionary tree in the index.